Background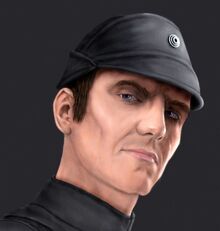 Born 34 BBY, the 31 year-old Julius Petrov is a rising star within the Empire's Imperial Navy. Cold & calculating in decisions, Petrov's personality fits perfectly with the Tarkin Doctrine. He has no known wife or dating partner, although his fellow TIE Pilots will tell you he's one for the ladies and doesn't have a hard time picking up dates. His parents live on Coruscant, where he was born. He stands 5 foot, 10 inches and is athletically in shape, with an interest in physical sports.
A TIE Fighter Pilot at his very core, Petrov served three tours in a TIE Fighter Squadron, being the Squadron Leader for one of those years. He achieved the title of Ace and later Quadruple Ace with over 22 confirmed kills.
Later, he was selected to return to Prefsbelt IV Naval Academy to complete additional officer training; the Imperial Navy saw value in Petrov as a pilot & as an important recruiting too and they didn't want his life wasted in a meaningless skirmish. Once his additional officer training was completed, he was assigned to teach at Prefsbelt IV Naval Academy itself for 2 years, where he was often front and center for recruitment drives and conferences for Imperial Officers.
Bored with academic work and tired of being a poster boy for the Imperial Navy behind a desk, he worked his way back to a active TIE Fighter Squadron for one year (although the Empire made sure it was in a relatively "safe" area of operations in the Core Worlds); despite his boldness, the Empire wouldn't see their star rising fighter pilot killed in action. A year later, he was ordered to the rank of Wing Commander, Julius was assigned to the Darkest Night during Operation Clean House.
Both as a Squadron Leader and as a Wing Commander, Julius is known as a fair, but hard officer to work for. He demands the best from his pilots and will ruthlessly transfer pilots out of his command that fail his near-perfect standards. Despite the high ceiling for his pilots, Petrov is known as a loyal and stubborn supporter for his pilots.